Tandem Skydive 9000ft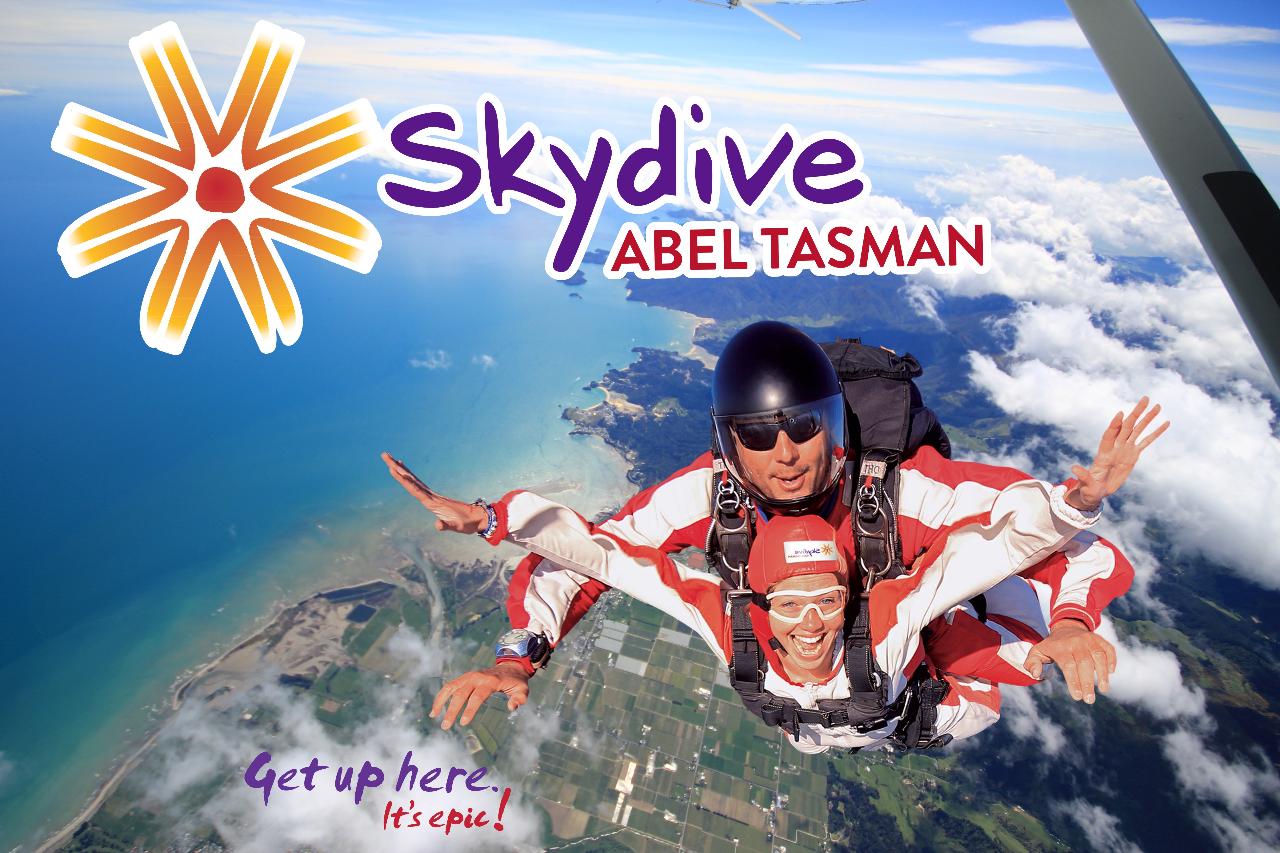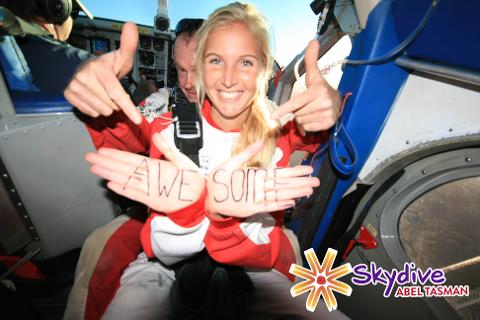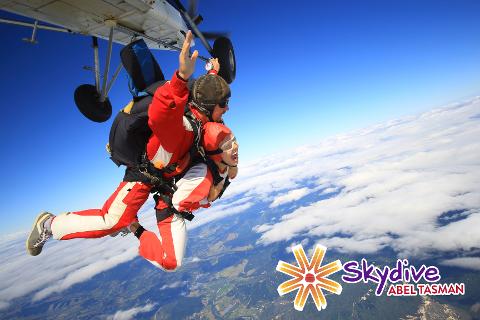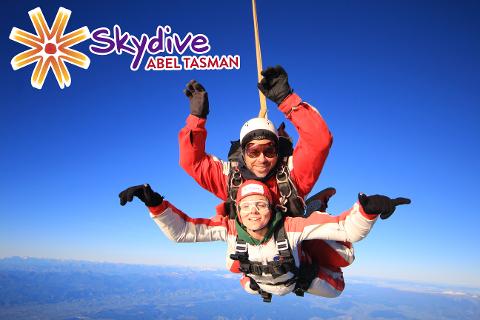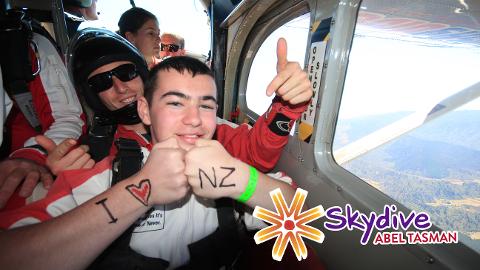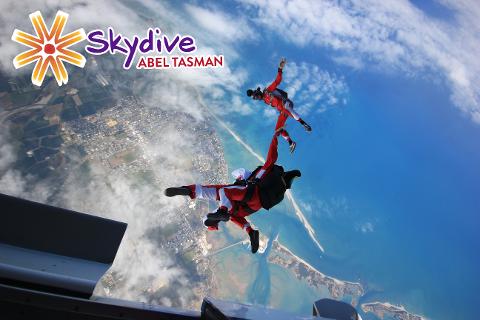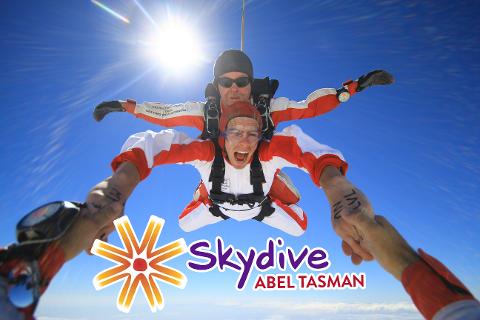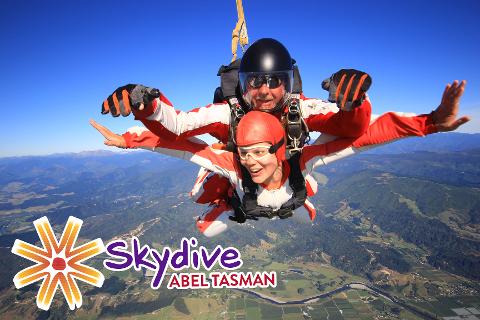 Duration: 2 Hours (approx.)
Location: Motueka
Product code: T9
Located in central Motueka, and boasting the country's most epic scenery, we are the only dropzone in New Zealand who can show you the mind blowing views of both Islands from the best piece of sky this beautiful country has to offer.
Feel the freedom of flying over turquoise oceans, snow-capped mountains-some of the most beautiful scenery on earth right at the centre of New Zealand.
We are so lucky. Everyday we make people ecstatically happy doing what we love – skydiving over the awesome Abel Tasman!
We put everything into making your whole experience in the sky and on the ground better than you ever imagine. Including the original ways we capture your whole experience with multi-angled HD photography and video


" Skydiving in the Abel Tasman is unique. We have mountains, we have rivers, we have the ocean and we have the Abel Tasman National Park. There is no other location in New Zealand where you can get all of those things. "
Stuart Bean – Owner/Operator and one of New Zealand's most experienced and award winning sport skydivers.
Do location and team dynamics even matter?
Absolutely! And we offer the best of both…..

Because the location is perfect, and our team puts everything into making it totally memorable – a tandem skydive with Skydive Abel Tasman is your thrill of a lifetime opportunity. We are so glad you found us!
"What you'll see and feel up here is so epic you'll never forget it". We make sure of it!"
– Kevin Bedford, Tandem Master and Operations Manager
Skydiving in the Abel Tasman is a bit like falling in love – thrilling, unexpected and totally unforgettable!
How it works
Free Shuttle Pickup
If you have organised a shuttle, we'll pick you up at your location of choice and bring you to our dropzone at Motueka Airport. The fun begins…
Welcome to the Dropzone!
We'll be stoked to see you and very excited for you! First, we will introduce you to our friendly staff and get you to fill out a small form. You are now in skydiver mode!

View Our Intro Video
We will take you into our theatre and show you a video to give you a taste of tandem skydiving and our camera production. Then we will explain everything that will happen next, and answer any questions you may have.
Wait for your call

Chill time! Just relax and enjoy our free WIFI internet and enjoy parachute spotting from the ground!
Get Geared Up
When your turn comes (excitement mounts), you will get geared up into your jumpsuit, harness, hat and goggles. Super cool.
Meet Your Tandem Master
Now you meet your Tandem Master! It's instruction time for your exit and freefall. It's all very simple and straightforward. If you have a dedicated cameraperson, they will have a quick interview with you on the ground. Yes…it's really happening!
Board the Plane
In the plane – the camaraderie really kicks in and any nerves soon turn to excitement. Enjoy the amazing view as your Tandem Master points out the incredible scenery you're surrounded by. Your cameraperson will also be capturing photos in the plane. You'll feel like a star! You are!
Jump Time!
Once the door of the plane opens, you will feel and hear the rush of the wind. You will see other people exit the plane and your Tandem Master will move you to the door, all connected, and in a few seconds – you'll be stepping off into an epic freefall experience! You won't feel your tandem master on your back, you will feel
Freefall at 200kph!
Freefalling is amazing! You will experience a huge rush leaving the aircraft – but just as quickly notice that the sensation of the roaring wind below you actually cushions you as you travel speeds of 200kph (120mph). During freefall your cameraperson will be able to come close to you, possibly even hold your hands and capture your facial expressions as you freefall through one of the most beautiful skies on earth.
Float Through Paradise
Then wow – the rush turns to extraordinary peace when at approximately 5,000ft, your parachute opens, and you gently drift over the Abel Tasman with breathtakingly beautiful views of the mountains, rivers, and the ocean. At this point, you'll either be stunned to silence or screaming for joy! It's an indescribable feeling that you will never forget!
The Foolproof Landing
The awesome finale – a soft landing, and an immediate desire to get up there and do it all over again! At this point, what we really love is seeing people unable to wipe the smiles off their faces! This can last for a few days. If you have your cameraperson with you, they will be on the ground to film your landing as we return. Congratulate yourself! You've done it!
Helpful Tip
Write a message on your hands for your friends and family to show on camera. Great photo opportunity!

For more information, FAQ & more photos head to our website, YouTube Chanel and Facebook
http://www.skydive.co.nz/how-it-works/
Size Limits is roughly 7 years old minimum. Children must be able to fit the harness and they are good to go